Well, BTB2022 is in the rear-view. The rain held off and there were a minimum of incidents. Thanks to all of you who participated. It never ceases to amaze me to witness the get-er-done attitude and capabilities and willingness that you all bring with you. It is an honor to serve with you and I look forward to our future exploits. – Jeff, KC9UNZ
Bike the Barns this year includes a short route, a long route and a additional option to the long route. We will provide communications at each rest stop as well as SAG vehicles with communications and mechanics on board. There is a water stop at Lake Kegonsa State Park that we are not staffing. The SAG on that route (black color) will take a look when he drives by.
When you arrive at your rest stop please refer to the birds eye views below to locate where you can set up. A tent will be provided.
Please refer to the Volunteer Assignments Sheet for timing. There is no need to physically report to Net Control unless you are picking up a Mechanic to ride with you. Please just
Communications will be done using a primary and secondary repeater (if needed) in Dane County along with simplex frequencies if needed.
I have assigned SAG responsibilities to those who have said they have APRS capabilities. I expect to use APRS during the event. Please let me know if my assumptions are incorrect.
ICS-205
The ICS-205, which describes the frequencies that are being used, can be found here: https://kb9orn.org/wp-content/uploads/2022/09/20220908_ICS_205.pdf
Volunteer Assignments
Please refer to this Spreadsheet (https://docs.google.com/spreadsheets/d/16uOZo4KqERdkZSv2E4fi-SLoG22ZaWq4aj_t-C3CeKw/edit?usp=sharing) for Assignments. This spreadsheet includes
The rest stop or route (please refer to the colors on the map and the spreadsheet) you have been assigned
the approximate times your rest stop or route will be active
your tactical call
phone numbers and email
Communicator Instructions
I am including some instructions we have used for events describing the duties of SAGs, Course Marshals, and the use of break tags. Some of the language is for larger routes and we don't currently distinguish between SAGs and Course Marshalls but in general these instructions and break tags are still germane.
Route Maps
The Route Map is below. Please Click on the image for an interactive map. The Letters on the map refer to the locations below.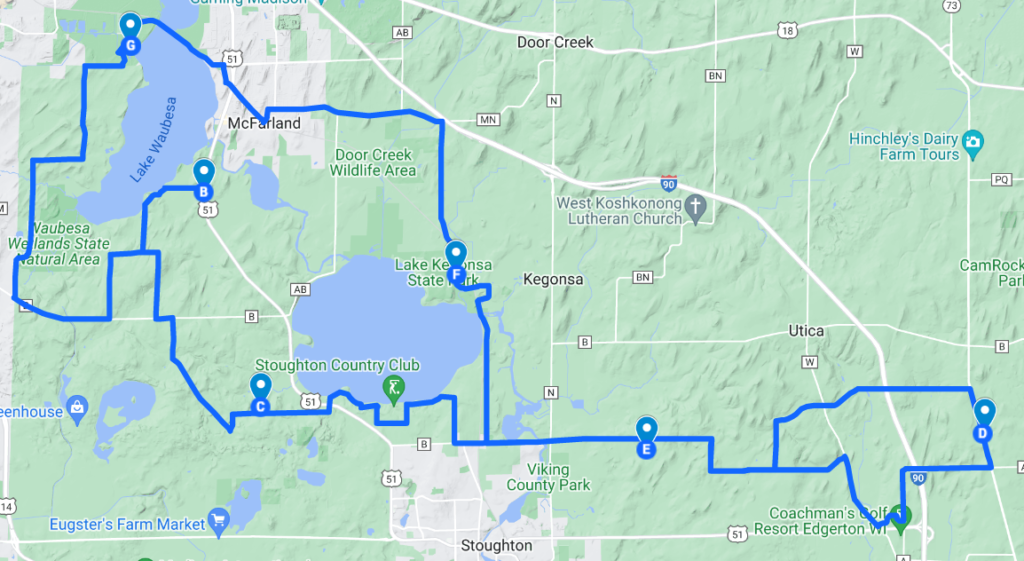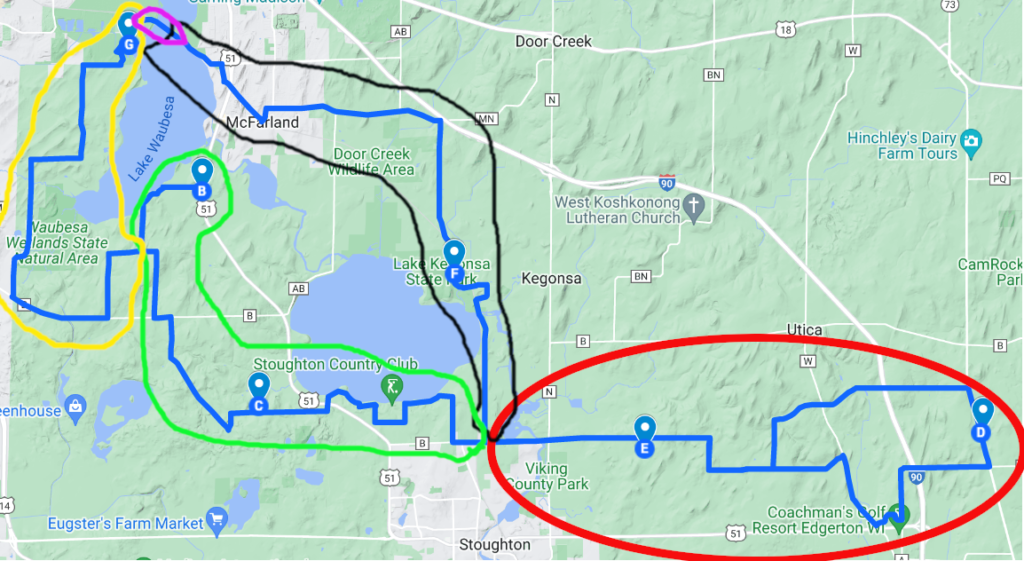 For Navigational Software
Please find links below to KML and GPX files for use with Navigational Software on your mobile devices.
For Android users trying to use the gpx files I have found this web page helpful: https://bikepacking-adventures.com/en/gpx-file-android-navigation/
For iPhone Users using gpx this looks like a helpful page (I am not an iphone owner so your results my vary!): https://www.outdoorgearlab.com/expert-advice/how-to-load-a-gps-file-on-your-phone-in-gpx-format
KML files open easily using Google Earth on Android. Again not sure about iPhone although it appears that Google Earth is available in the App Store.
Links to files
Lake Farm Park (A,G)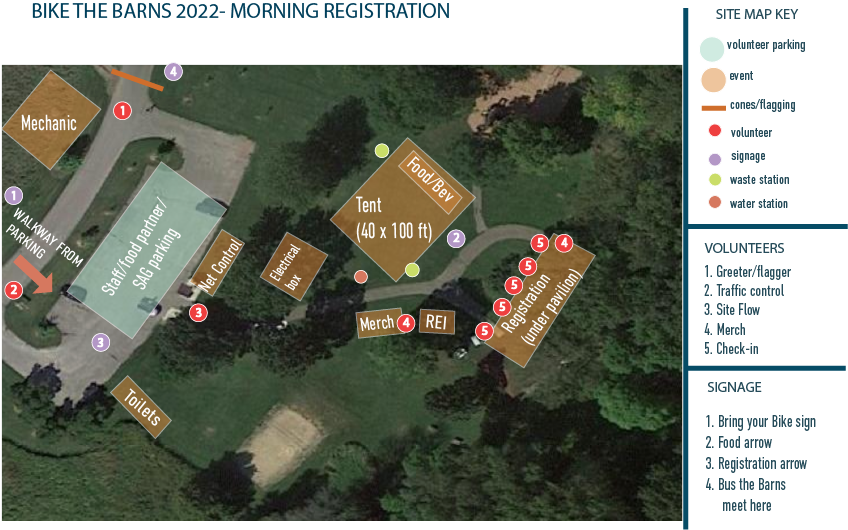 Vitruvian Farms (B)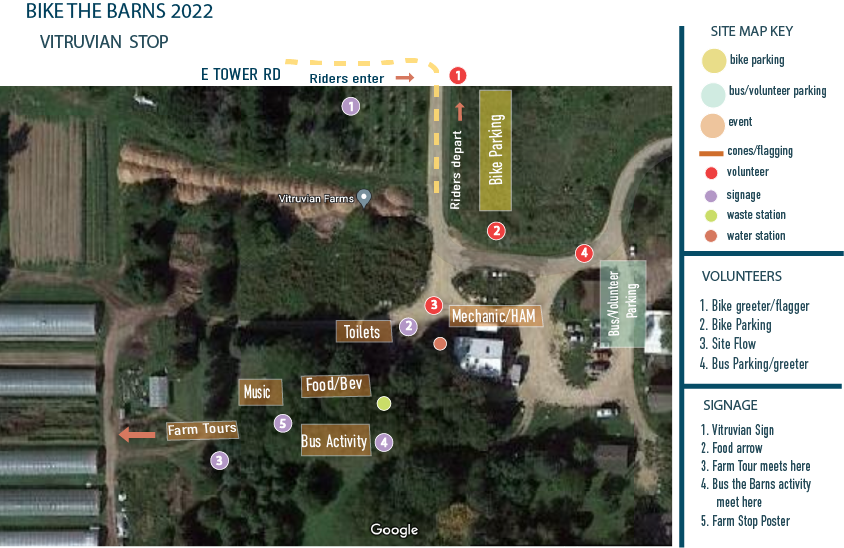 Parisi Family Farm (C)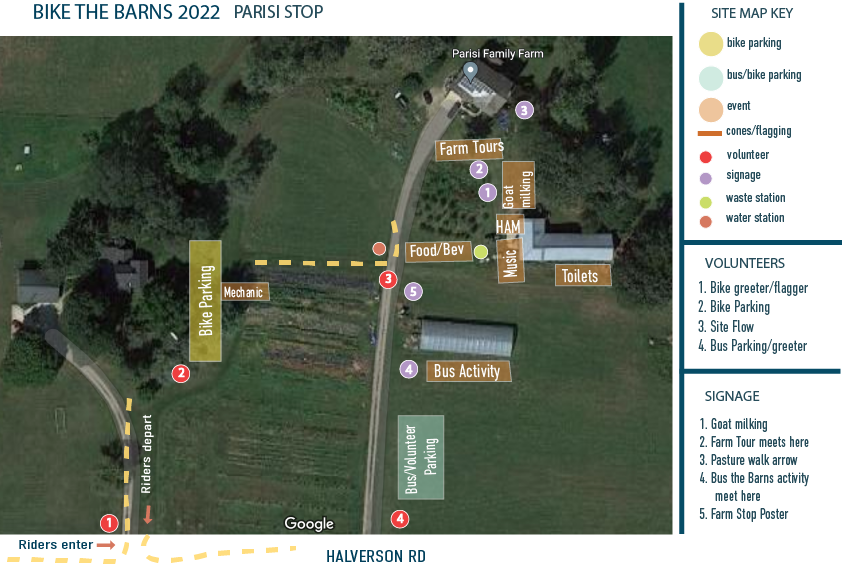 Sprouting Acres (Long Route Only) (D)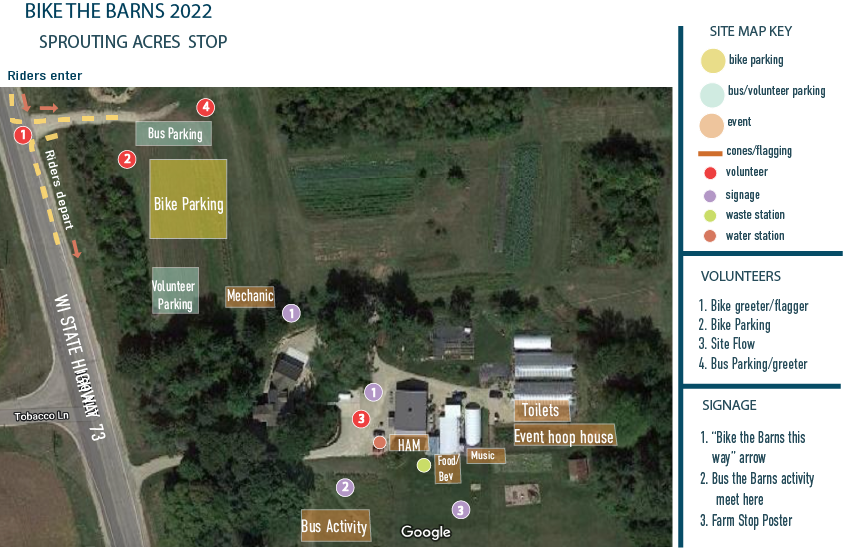 Lovefood Farm (E)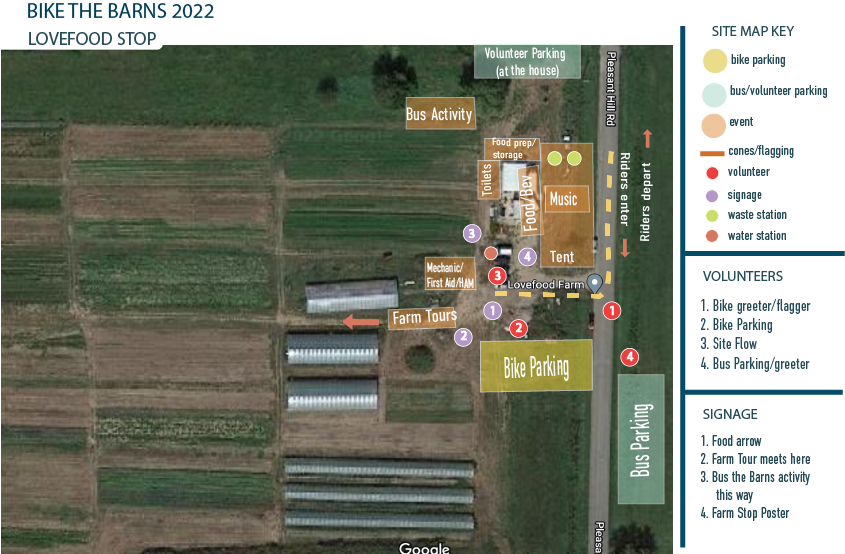 Water Stop – Lake Kegonsa State Park (F)
TBD
Lake Farm Park (After Party) (A,G))